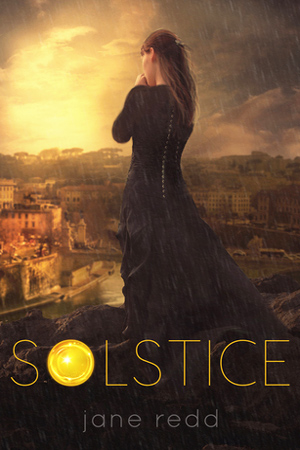 SolsticeSeries:
Solstice #1
Author:
Jane Redd
Genres:
YA Post Apcolyptic
,
Young Adult SciFi/Futuristic
Format:
eBook
•
Pages:
294
Published:
March 1, 2016
Publisher:
Mirror Press
Source:
Kindle Scout


There are four ways to get Banished from the last surviving city on earth:

1. Cut out your emotion tracker

2. Join a religious cult

3. Create a rebellion against the Legislature

4. Fall in love.

Jezebel James does all four.

Jez is on the fast-track to becoming a brilliant scientist, with one goal—save her city from total extinction. But the more Jez learns about the price of a fresh beginning, the more she realizes that carrying out the plan will lead to few survivors, and among the dead will be those she cares about the most.
An Awesome YA Dystopian/Romance!
I love this type of story—young adult characters trying to survive post-disaster. In Solstice, the disaster is climate change—nearly constant rain and flooding. I would DIE in this world!
The political/community setting is typical dystopian, a society where the adults are controlling (and ruining) everything. The basic conceptis emotion control via implanted chips. Although the chip thing has been done before, I still really liked it.
I had high hopes for this story line, and guess what? It met all of them! I didn't even mind the cliff-hanger at the end because Jane Redd (aka Heather B. Moore) is a prolific and fast writer, so I'm sure we'll be seeing book #2 soon.
[bctt tweet="There are 4 ways to be banished—Jezebel James does them all. SOLSTICE Jane Redd #YAscifi #4.5stars #giveaway"]
What did I think?
Character is key, in my opinion. I loved the character of Jezebel Jones. Some may think she's codependent and that she second-guesses herself too much, but hey—she's a teenage girl who has had to hide who she is and what she feels since birth. Add to that discovering that what you've always believed is not quite true, and the fact that you can't trust anyone—that's got to twist you up inside.
I also loved Sol and Reuben—the two boys in the love triangle. But this triangle is not just a question of who Jez likes best. It's also a question of who can she really trust—and the wrong choice could kill her and others.
I spent the entire book trying to figure out which characters were honest and trustworthy, which were trying to trip Jez up, and which were unwilling/unknowing pawns. And honestly, I couldn't always tell. In fact, the bigger the character, the less likely I was to figure it out. By the end of the book, I didn't trust anyone! And that is sooo awesome!!
The plot moved quickly. The emotion was high throughout most of the book. Just when you think a situation is almost resolved, it gets even worse! Then the themes: love, family, religion, loyalty. All were explored in a way that really made you think.
I would feel comfortable letting any teen read this. While the action was high, the violence was minimal and not overdone. There was kissing, but that's all. As for language, it uses the h—word a few times, but is referring to the actual place, and the d—word once.
I recommend Solstice by Jane Redd to anyone who enjoys a clean young adult dystopian story with lots of action and angst, and a little romance. I give it 4 1/2 STARS.

And here's the Giveaway: Solstice (print or ebook) (ends 3/18/16)
Giveaway organized by Mindy Holt and sponsored by the author. Open only to those who can legally enter. Winning Entry will be verified prior to prize being awarded. No purchase necessary. You must be 18 or older to enter or have your parent enter for you. The winner will be chosen by Rafflecopter and announced here as well as emailed and will have 48 hours to respond or a new winner will be chosen. This giveaway is in no way associated with Facebook, Twitter, Rafflecopter or any other entity unless otherwise specified. The number of eligible entries received determines the odds of winning. VOID WHERE PROHIBITED BY LAW.
Related Posts