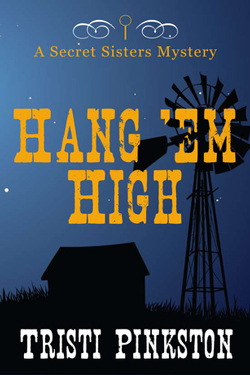 Hang 'Em HighSeries:
Secret Sisters #3
Author:
Tristi Pinkston
Genres:
Cozy Mysteries
Format:
Paperback
•
Pages:
258
Published:
2011
Publisher:
Walnut Springs Press


When Ida Mae Babbitt receives an invitation to visit her son Keith's dude ranch in Montana, she's excited to mend their broken relationship, but not so excited about spending time with cows.

Arlette and Tansy go along with her, ready to take a vacation that does not involve dead bodies or mysteries of any sort—one must have a break from time to time.

But it seems a no-good scoundrel has moseyed into Dodge City and is bent on causing all sorts of trouble for the ranch.

Unable to keep her curiosity in check—especially when it seems her own son is the most likely culprit—Ida Mae decides to investigate. Can she lasso the varmint and get him to the sheriff in time?
I received this book in exchange for an honest review.
Hang 'Em High is what is called a "cozy" mystery—meaning, it's a very light and easy read (not a James Patterson). It's important that you, the reader, understand this distinction. I was taken to task not too long ago for giving a lot of stars to a "fluff" mystery.Well, I happen to like fluff mysteries. They make me laugh. As long as they are clever, and they meet the expectations of the genre, I'll continue to give cozy mysteries lots of stars.
The good thing about a cozy is it is usually very character-driven. There's nearly as much time spent on the characters—learning they're quirks and delving into their emotions—as there is spent on the actual mystery plot. In this series, you really come to love these characters. Ida Mae, Arlette and Tansy are so unique and individualized, each with their own set of strengths and weaknesses. They are definitely three of my favorite cozy mystery characters.
The bad thing about a cozy is it is usually very character-driven. Some cozies start out a little slower than I like and I'm impatient to get to the dead bodies (or whatever). That was my experience with Hang 'Em High. It took awhile for the actual mystery part of it to get started—which is why it only gets 4 stars from me, and also why it's my least favorite of the series.
However, once they get to the ranch, the pace picks up quite nicely. Which is not to say you should skip the first few chapters because there are some funny parts (like Ida Mae and Arlette's discussion about double-knit vs blue jeans). But once at the farm, the book just blossoms. More than once, I found myself laughing out loud over the antics of these "mature" ladies.
The plot (once they get to the ranch) was great. There were several possible culprits and I figured out who it was at just the right time in the storyline. The dialogue was fun and funny. The characterization was dead-on for the recurring characters. And I really liked how Ida Mae is finally re-connecting with her son and clearing up some of the issues of their past.
If you like clean, cozy mysteries, you'll like this one. And as soon as it's available for the iPad, I'm getting it for my mom (who loves the series).
Giveaway
To celebrate the release of Tristi's eighth book, she's holding a contest! If you leave a comment on this review, you will be entered into a drawing for a free manuscript evaluation, done by Tristi Pinkston Editing.
In fact, you can leave comments on all the blogs participating in this virtual book tour! Go to Tristi Pinkston's blog for a complete list. The deadline is October 5th at midnight MST.
(If you win and you're not a writer, you can give this evaluation to a friend. Hint…hint.)
Related Posts