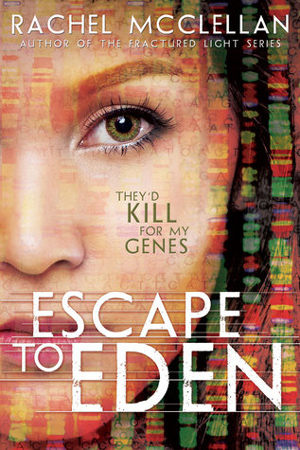 Escape to EdenSeries:
Escape to Eden #1
Author:
Rachel McClellan
Genres:
Young Adult SciFi/Futuristic
Pages:
304
Published:
February 1, 2016
Publisher:
Sweetwater Books
Source:
Book Tour


My left pinky has a word on it too. It says: "Run." I turn my hands inward until my fingertips are touching. Together the words say:

RUN NOW

Sage can't remember who she is or why she's in a hospital. But when she sees the words written on her hands, she knows she must escape—no matter what.

Who is Sage? The answer may kill her.
I received this book in exchange for an honest review.
A Fun, Plot-twisty Young Adult Dystopian Thriller
Enhanced DNA can give you awesome superpowers, but it comes with a price—a shortened lifespan. When "Primes" have been genetically designed to the point that they're no longer altogether human, pure human DNA to extend your life becomes a priceless commodity. If you're one of the remaining few "Originals," everyone is hunting you.
Escape to Eden takes a few of the tropes from The Hunger Games by Suzanne Collins and the Uglies series by Scott Westerfeld (two of my favs), and twists them together with unique ideas and characters to create a fun, plot-twisty young adult dystopian thriller. A fast read with one harrowing moment after another!
[bctt tweet="Hunted for her DNA, her life is on the line.  ESCAPE TO EDEN #YA #dystopian #giveaway"]
What did I think?
This is definitely a plot-driven story line and I loved it. It starts strong when Sage wakes up with no memories, and like her, the reader has no idea who to trust. Then the plot twists and twists, as one life-threatening event after another pulls you through the story and won't let you go. I can testify to that—it kept me up until 2:00 a.m. because I had to know what happened next!
I loved the basic idea of altered DNA and the names, strengths and weaknesses for each of the alterations. I liked the classic dystopian set-up with the all-powerful Institute vs the Originals and those who have sworn to protect them. I thought the themes of loyalty and family were strong.
The characters were interesting. The main character, Sage, was alternately strong and weak, which made her likeable, but there were also times when she seemed too smart or too naive for her character. I really liked Colt—the dark, brooding love interest. The other Primes were fun and unique, but didn't always act true to character. Max, Sage's brother, caught my heart and I just wanted to protect him.
There were a few places where the story just stopped and a character gave us backstory. I wish that had been broken up a bit, but overall, it wasn't too annoying and things quickly picked up again.
There was quite a bit of violence, as could be expected, but not near the level of The Hunger Games. Other than that, it was a clean read and I'd feel comfortable letting my teens read it.
If you like YA Dystopian, give this one a try. I give it 4 STARS.
Click here to find other reviewers participating in the blog tour.
Giveaway: $50 Amazon Gift Card & lots of books! (Ends 2/21/16)
Open only to those who can legally enter, receive and use an Amazon.com Gift Card. Winning entries will be verified prior to prize being awarded. No purchase necessary. You must be 18 or older to enter or have your parent enter for you. The winner will be chosen by rafflecopter and announced here as well as emailed and will have 48 hours to respond or a new winner will be chosen. This giveaway is in no way associated with Facebook, Twitter, Rafflecopter or any other entity unless otherwise specified. The number of eligible entries received determines the odds of winning. Giveaway was organized by Loving the Book and sponsored by the author. VOID WHERE PROHIBITED BY LAW.
Related Posts