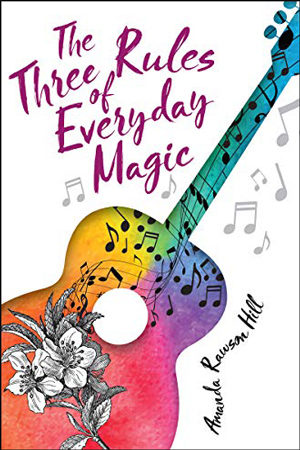 The Three Rules of Everyday MagicGenres:
Middle Grade Historical
Format:
eBook
•
Pages:
193
Published:
November 6, 2018
Publisher:
Boyds Mills Press
Source:
Author/Publisher


Magic doesn't work the way you think it will, but it's what Kate needs as she confronts friendship trouble, her parents' divorce, and Grammy's dementia.

Kate has trouble believing in magic, especially since the people she loves keep leaving her. But when Grammy tells her the three rules of everyday magic—believe, give, and trust—Kate can't resist believing, at least a little. Following Grammy's advice, she tries to bring her father, her best friend, and even Grammy herself back to her.

Nothing turns out as Kate expects, yet the magic of giving—of trusting that if you love and give, good things will happen, even if you don't see them happen–will change Kate and her family forever.
Believe, Give, and Trust
Those are the three rules of magic that Kate's grammy teaches her. But they don't quite work the way Kate hoped. [br] [br] This is such a well-written and wonderful story. It runs through every emotion—happy, sad, grief, loneliness, betrayal, hope, and more. I found myself smiling in places, and swallowing a lump in my throat in other places. [br] [br] As the story slowly unfolds, it goes from present to past and reveals secrets in a very logical way. Kate learns lessons and finds healing as she deals with divorce, friends, her grandmother's dementia, and a distant father. [br] [br] I loved the characters. They were true and real to me. I felt Kate's struggle with her father's issues was spot on. I loved her grandmother. She gave the best advice, if a little convoluted at times. But most of all, I loved the three rules of magic. I need to remember those myself. Looking forward to more from this author. I highly recommend this to middle grade readers, 12 and up, and to anyone who likes a good story with all the feels. I think it should be in every middle school and junior high library. I give it
5 STARS
. [br] [br]
Related Posts