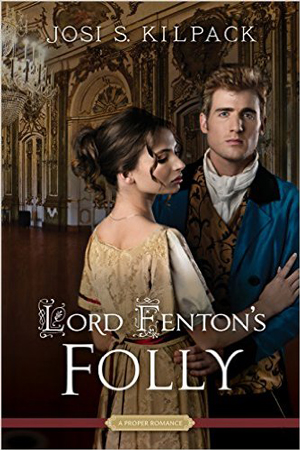 Lord Fenton's FollySeries:
Proper Romance #4
Author:
Josi S. Kilpack
Genres:
Historical Romance
Pages:
336
Published:
October 6, 2015
Publisher:
Shadow Mountain
Source:
Book Tour


Lord Fenton is a gambler, a dandy, and a flirt-and he must marry or else he will be disinherited, stripped of his wealth and his position. He chooses Alice Stanbridge for two simple reasons: he once knew her as a young girl, and she is the least objectionable option available to him.

However, Alice has harbored feelings for Fenton since their first meeting ten years ago, and she believes his proposal is real. When she discovers it is not, she is embarrassed and hurt. However, a match with the most-eligible bachelor in London would secure not only her future but that of her family as well.

Determined to protect herself from making a fool of herself a second time, Alice matches Lord Fenton wit for wit and insult for insult as they move toward a marriage of convenience that is anything but a happy union. Only when faced with family secrets that have shaped Fenton's life does he let down his guard enough to find room in his heart for Alice.
I received this book in exchange for an honest review.
Whenever I review a romance here, I always feel the need to add a disclaimer. I don't like romances. I don't usually read them by choice. But I have loved every single book that I've read by Josi S. Kilpack, and so when she started writing Regency Romances, I knew eventually I'd cave and read them.
And you know what? I loved Lord Fenton's Folly! For me, a good regency romance is all about the characters. We first meet Alice and Lord Fenton while they are still children—I was intrigued. I continued to like them after that, but it wasn't until chapter 13 that I totally fell in love with both of them when they're arguing over the color of Alice's stationery. I found myself invested in Alice and Fenton's journey and romance. At times, I wanted to shake both of them, and at other times hug them.
The secondary characters were well done, too. Fenton's mother is an absolute saint, and his father a total cad. Fenton's two dandified friends were hilarious. They were all believable, even if they were standard character types.
The only thing I wasn't really thrilled with was figuring out one of the family secrets very early on, but then it wasn't addressed at all until the very end. I would have liked to see a little more interaction between Alice and 'the mystery person' throughout the story, so I could watch her attitude toward him gradually change.
This book is part of Shadow Mountain's Proper Romance series, which means there is no swearing, and absolutely no intimate scenes. (I love that!) Overall, this is a nice clean regency romance with solid writing, strong characters, and a story that pulled me along. And I guess I'm going to have break down and read her first regency romance, A Heart Revealed, that came out in April.
Click to read more reviews from other book bloggers participating in this blog tour.
Related Posts