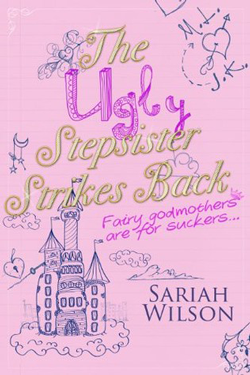 The Ugly Stepsister Strikes BackAuthor:
Sariah Wilson
Genres:
Young Adult Realistic/Issues
Format:
eBook
•
Pages:
194
Published:
August 15, 2012
Publisher:
Indie


Ever wanted to punch Cinderella in the face? Mattie Lowe can relate.

Everyone knows how all those fairy tales go. The princess gets beautiful, nabs her prince, falls instantly in love, lives happily ever after and leaves her evil stepsisters in the dust.

But what happens when you're the ugly stepsister and your obnoxiously perfect—read pretty, smart, and, worst of all, sickeningly nice—stepsister is dating the charming, tall, devastatingly handsome guy you've had a thing for since you were nine years old?

Quirky, artistic and snarky Mattie Lowe does not lead a charmed life. Her mother is constantly belittling her on Skype. Mercedes, the school mean girl, has made it her personal mission to torment Mattie. But worst of all? Her stepsister Ella is the most beautiful, popular girl in school and is dating Mattie's secret longtime crush, Jake Kingston.

Tired of being left out and done with waiting for her own stupid fairy godmother to show up, Mattie decides to change her life. She'll start by running for senior class president against wildly popular Jake.

Ella can keep her Prince Annoying. Mattie's going to rule the school. And no one, not even a cute and suddenly flirty Jake, is going to stop her.
I received this book in exchange for an honest review.
If you like those authors or Janette Rallison's funny Young Adult reads, you'll definitely like this book!
I always like to get the down-side of a review over with first. So, book cover. Meh. Not really a good one. But don't let that stop you from giving this book a try.
It's also self-published and I know that automatically puts some readers off. But really. This is good. It's awesome fun. I promise you, it has NONE of the annoying stuff that a lot of self-pubbed stuff has in it. (And I like it better than her previous historical fiction that was traditionally published.)
And that's about all I can think of to say bad about this book. Now for the really good stuff.
Ugly Stepsister has a fun plot. Some of the plot points have been done before but this story has a unique feel to it. There are some great twists. Lots of angsty teen emotion but tempered with humor.
The characters are great. Mattie is solid and likeable. Her sister, Ella, is believable. The supporting characters are well-written and have distinct personalities.
Sariah Wilson has hit her sweet-spot with the voice of Mattie. Clever, fun, young, trendy. I can't wait to read more in this style from her. I whole-heartedly recommend this to anyone who loves fun contemporary YA romances.
Related Posts