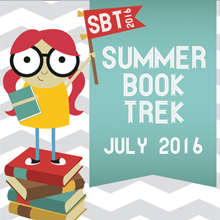 The Summer Book Trek is a fun reading challenge. I participate every year. It's so fun. I love reading the reviews by other readers. It helps me find good books to read throughout the rest of the year.
This reading challenge is really easy. You pick as many or as few books as you like—then enter to win lots of prizes. The only caveat is—the books must be novels by LDS authors. Just hop on over and enter at NewLDSFiction.com.
Even though I can't win any prizes (because, seriously, I'm the host), I'm still going to post my reading list and participate in all the other ways. I probably won't review all the books I read for this challenge here on this website, but I will post my reviews on Amazon & GoodReads.
Here are the books that I "think" I'll be reading in July:
(Not necessarily in order. I probably won't get them all read, and I reserve the right to add and delete on a whim! )
Banished — Kimberley Griffiths Little
Forever & Forever — Josi S. Kilpack
Bluescreen — Dan Wells
And I Darken — Kiersten White
The Zion Trail — Marsha Ward
Summerlost — Ally Condie
The Passion of Dolssa — Julie Berry
Mr. Gray — Michaelbrent Collings
When I'm Gone — Emily Bleeker
Calamity — Brandon Sanderson
Got Luck — Michael Darling
Willowkeep — Julie Daines
The Librarian Shoots a Gun —Amber Gilchrist
{Re} Model Marriage — Maria Hoagland
Flash — Alex Hoagland
Memory Hunter — Frank Morin
Numbers Ignite — Rebecca Rode
The Wizard's Heir — Devri Walls
Child of Sorrows — Michaelbrent Collings
Rise of the Wolf — Jennifer A. Nielsen
Beyond the Rising Tide — Sarah Beard
Save
Save
Related Posts