The Eternity ElixirSeries:
Potion Masters #1
Author:
Frank L. Cole
Genres:
Middle Grade Fantasy
Format:
Hardback
•
Pages:
272
Published:
January 2, 2018
Publisher:
Shadow Mountain
Source:
Won


For hundreds of years, all of our medical findings, our technological advancements, and even our weapons are a direct result of magical potions. Few people know about the truth because few people are aware of the hidden potion community known as B.R.E.W.--the Board of Ruling Elixirists Worldwide.

Twelve-year-old Gordy knows all about the importance of cauldrons, flasks, and Bunsen burners. He has an extensive knowledge of hundreds of ingredients including Toadflax, porcupine quills, and catfish eyes because Gordy's mother is the Director of B.R.E.W., and he is an apprentice potion master with a secret lab in his family's basement.

When the world's most powerful potion--the Eternity Elixir--disappears and then mysteriously ends up in Gordy's possession, he must use all of his skills to protect the forbidden potion before enemies of B.R.E.W. find and use it to destroy the world as we know it.

Gordy recruits his two best friends, Max and Adeline, to assist him while his mother leaves to confront the most powerful elixirist of all time-the great Mezzarix-who happens to be Gordy's grandfather.
Good Enough to Fight Over!
I won a copy of THE ETERNITY ELIXIR in a Facebook Giveaway. Which is awesome because I follow a lot of authors and I try to win books all the time, but I rarely do. The book just happened to arrive in the mail on a day I was tending two grandsons—one is 10 and the exact target audience. Here's a photo of the two of them fighting over who gets to read it first.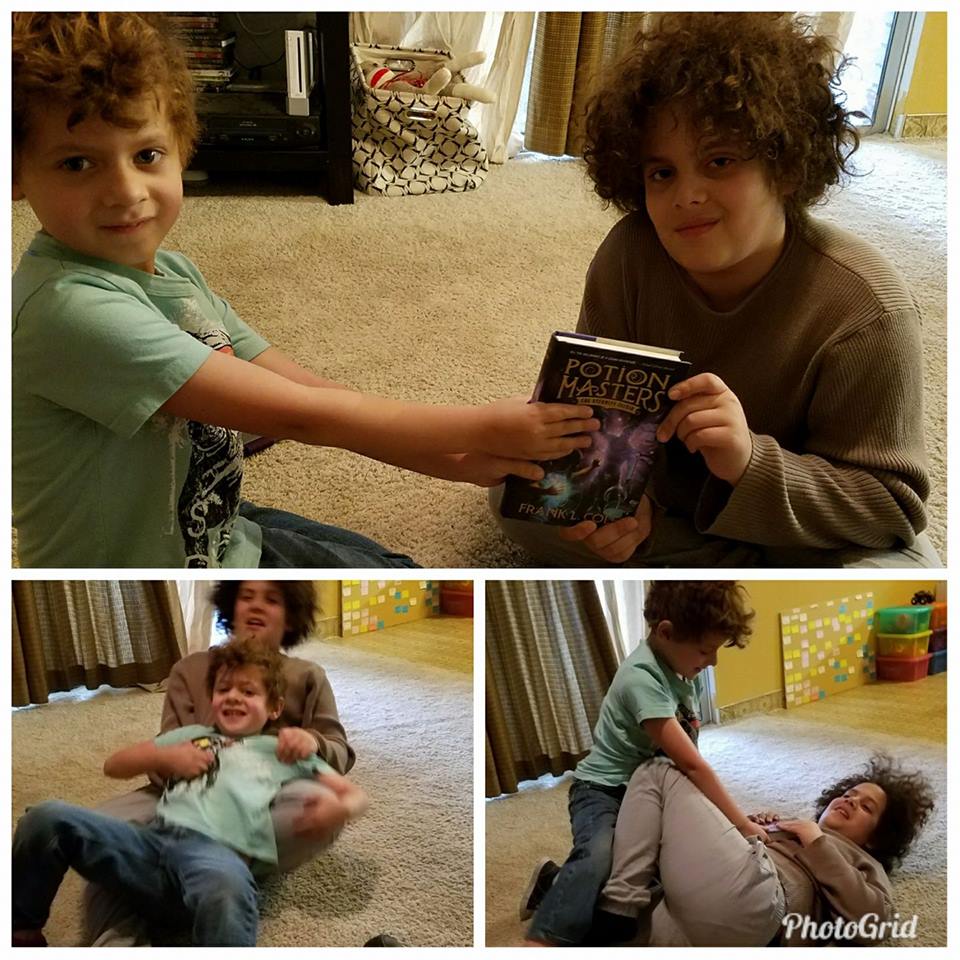 When the 6 year old realized he couldn't read the book by himself, he gave up. That's when the 10 year old discovered it was signed, which apparently is the coolest thing ever. Score!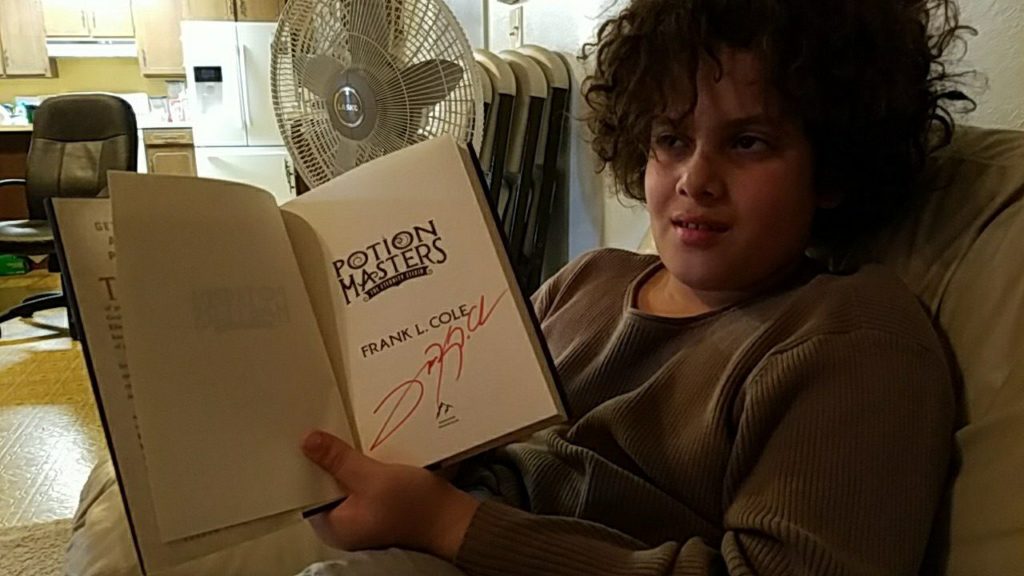 I loved Gordy!
The very best parts of the story were the scenes with Gordy. His interaction with his family and his friends, Max and Adilene, were hilarious. I especially loved the mummy in the basement lab and how they had to keep spraying it with air freshener. I loved all the crazy potions that do off the wall things, like grow an extra arm or attract rats.
There were some chapters where Gordy's mother and aunt went off to find the villain (fun twist here) that I felt were disruptive to the story line. The prologue was also a little confusing. This may be a disconnect for younger readers. These parts were also not nearly as interesting and captivating as Gordy's part of the story.
Overall, the story was enjoyable and pacing was fast. The book is easy to read. There's some potty humor and some mild violence, but appropriate for middle grade readers. I recommend it for readers 10+ who like contemporary fantasy. I give it 4 STARS.
Related Posts