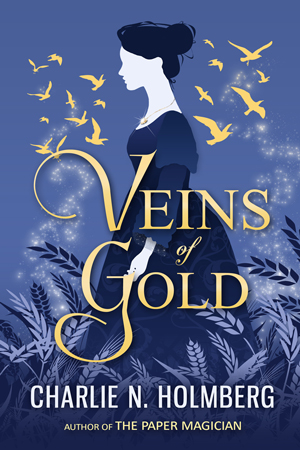 Veins of GoldAuthor:
Charlie N. Holmberg
Published:
July 17, 2018
Publisher:
Mirror Press

Desperate to save her siblings from poverty, a young woman discovers magic fueled by gold… and a love for the man who wields it.

Abandoned by their father for the gold rush, Gentry and her siblings labor to survive alone in the inhospitable west. When bizarre natural disasters begin wreaking havoc on the land, Gentry discovers a world of magic. Desperate for help, she accepts aid from a mysterious stranger.

Winn not only sees the magic, but controls its hunger by feeding it gold—the very thing Gentry's father left to acquire. But the earth's unrest only grows worse, and Gentry's fear leads her to a terrible choice: marry a wealthy man she does not love, or trust in Winn's unpredictable power to save her family.
I love this cover!
I don't usually do cover reveals, but I make exceptions for my favorite authors.
I have read everything Charlie N. Holmberg has published. Of course there are some books I liked more than others, but I've liked all of them enough that she's one of my pre-order authors.
I see a new book by her… one-click. I don't even read the description. She wrote it, I want it. Boom!
This one isn't coming out until July of this year, but I've already ordered it. You can, too. (Click the yellowbutton.)


Or you can add it to GoodReads to remind yourself to get it when it comes out.


Other Books by Charlie N. Holmberg:
[br]
Related Posts