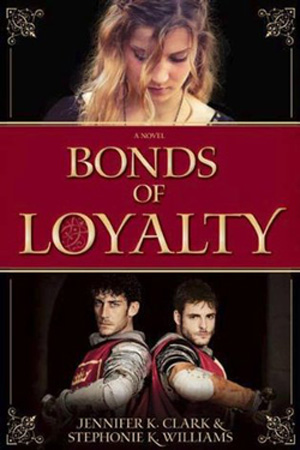 Bonds of LoyaltySeries:
Mark of Royalty #2
Author:
Jennifer K. Clark
,
Stephonie K. Williams
Format:
eBook
•
Pages:
176
Published:
September 2014
Publisher:
Covenant

It shall be the son, the firstborn in the new monarchy, who shall quiet the fears and unite the nation again.

For eighteen years, Sarah lived in happy ignorance of who she really was: the firstborn of the king and queen of Kyrnidan the lost princess. The mark on her shoulder, the brand of the royal family, is irrefutable but how is she to take on a persona that feels like a façade? Desperate to understand her new identity and with the support of her betrothed, Sarah undertakes a journey of self-discovery that will change the fate of a nation…

Reunited with her royal family, Sarah is thrust into the midst of the discord of the people of Kyrnidan. Her return intensifies darker undertones, and voices of dissention whisper what Sarah already fears: she should have stayed away. Her arrival disrupts the long-held prophecy of the firstborn son of the crown, a leader who will reunite the broken nation. As Sarah is drawn deeper into the affairs of Kyrnidan, she is propelled into a plot that threatens her life and the welfare of the entire kingdom. As the danger escalates, Sarah is torn by the feelings she holds for two very different men. Now she must leave behind her fears and step forward to meet her destiny…
Due to my crazy summer schedule, I haven't had a chance to finish this book, so this will not include a review. However, I've started reading it and so far, I like it.
Be sure to scroll down to enter to win a copy of Bonds of Loyalty, plus a $25 Amazon Gift Card!
About the Authors:
Jennifer K. Clark and Stephonie K. Williams are sisters by chance but became friends by choice when a year of rooming together at college taught them how to get along. Now "play"-at-home moms, separated and living in different parts of the country, they stay in touch and support each other in their individual projects.